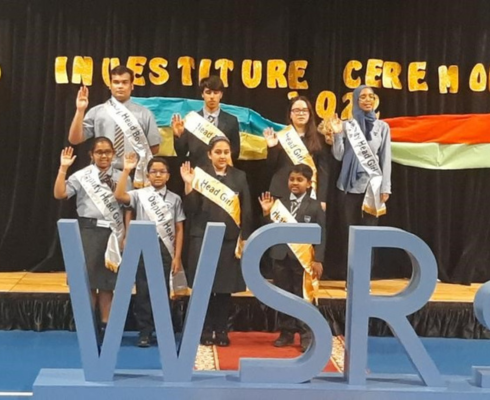 RISC 2023: Inspiring Innovation, Sustainability
RISC 2023: Inspiring Innovation, Sustainability
The University of Bolton – RAK Education Centre and Ras al Khaimah Education Zone launched an exciting competition for grades 9-12 students, the Ras al Khaimah Innovation and Sustainability Challenge (RISC) 2023. The competition featured six categories, including the Poster Challenge, Project, Scientific Case Study, The Third Eye: Photography Contest, Colouring/Drawing Contest, and Presentation.
Our school's science department and eco lead took charge of the competition, inspiring 26 students across Grades 6 to 9 to participate in the finals of RISC at the IWAM conference. They presented their projects and had the opportunity to meet experts in the field of sustainability and sustainable materials. Abirahman Ahmad, a Grade 12 student, presented his proposal for achieving net zero by 2050 in the UAE and received the 1st runner-up prize. Meanwhile, four Grade 10 boys received the 2nd runner-up prize for their project titled 'RAK Environmentalists.' The Grade 9 girls' project, 'Incognito Octopi,' earned the first place on the day, making it a hugely successful event for all the groups involved.
This competition was just one of the many initiatives taken by our school to support sustainability. The competition brought together innovative and inspired minds to tackle environmental issues head-on, and it was an opportunity for students to learn about the importance of sustainability and eco-friendly living. The competition has sparked creativity and innovation in our students, inspiring them to be the change they want to see in the world. It has encouraged them to think beyond the box and come up with practical solutions to tackle pressing issues such as climate change, plastic pollution, and environmental degradation.
We are proud of our students' achievements and their dedication to sustainability. Their efforts are a testament to the fact that small steps can make a big difference in creating a better future. We look forward to seeing what Term 3 brings and the inspiring initiatives that our students will undertake next. RISC 2023 has undoubtedly sparked a fire in our students' hearts to make a difference and create a more sustainable world for all.