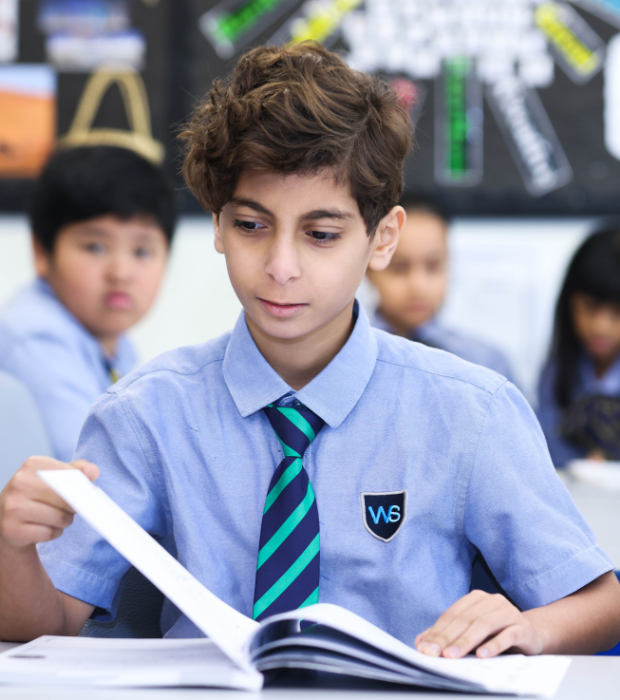 Admissions Process
GEMS Westminster School Ras Al Khaimah (WSR) is an inclusive school. The GEMS vision for Inclusive Education is that we achieve excellence together by all students receiving the support they need to meaningfully belong to their school and wider community, feel valued for their contributions, engage purposefully in learning and experience academic, cultural, social and emotional success in a common learning environment.
At GEMS WSR we welcome children with a range of learning preferences, including students of determination (students with special education needs and disabilities), students who are gifted and talented and students who are English Language Learners. Our staff are committed to educating all students in a common learning environment with similar-aged peers. At GEMS WSR diversity is made visible as a strength, respectful relationships are continually enhanced and all children fully participate in learning through adjustments and teaching strategies tailored to meet the diverse range of learners reflected in wider society.
Screening / Assessment
The school undertakes age-related screening and assessments to determine the right placement of an applicant. The screening and assessment of a student will be determined by the admission team. This is a necessary step along the path of completing the registration process for GEMS Westminster School – Ras Al Khaimah. Once this step has been completed, a student may be offered a seat, placed on the waiting list, or denied.
Age Requirements
In order to meet the age requirements of the admission policy for GEMS Westminster School - Ras Al Khaimah, a student must have turned the age listed next to the grade level by the beginning of the Academic Year.
Students must have turned the following ages as of August 31. Applicable for all new FS1/Pre-KG – Year 2/Grade 1 students enrolling from September 2023:
| | |
| --- | --- |
| Grade | Age |
| Pre-KG / FS1 | 3 |
| KG1 / FS2 | 4 |
| KG2 / Year 1 | 5 |
| Grade 1 / Year 2 | 6-8 |
Grade Placement
GEMS Westminster School – Ras Al Khaimah seeks to make the most appropriate grade placement for each student based on his or her age, as well as academic, social and emotional development within policy guidelines. For this reason, new students may be required to complete an appropriate level assessment to determine placement and fit.
Previous Schooling
All new students must provide official documentation of previous school experience, report card, and test scores. All documents provided must be in English. Transfer Certificates from abroad should be attested by the Ministry of Education and the Ministry of Foreign Affairs from the country of school's origin and the UAE embassy.
Student Registration
Step 1
To begin the application process, please fill in the 'Online Student Enquiry and Registration' form.
Step 2
Once you have completed the online application, you will receive an Enquiry Number. Please print a copy of this receipt and keep it for your records. If you cannot print this page, please ensure that you write down the Enquiry Number for all future correspondence and queries. Without the Enquiry Number, we cannot verify your enquiry submission. An acknowledgement email containing the next step will be sent to the email address you provide.
Step 3
After receiving the acknowledgement email containing your Enquiry Number, please follow the steps listed. You will be requested to pay a Registration Fee of AED 500. This fee is non-refundable, non-transferrable, and is required along with the requested documents to proceed with the registration process. Please submit the requested documents listed below to the Registrar:
The United Arab Emirates Ministry of Education requires that you submit the following on registration.
copy of child's passport with UAE residence visa
copy of child's Emirates ID both sides
copy of father's passport with UAE residence visa
copy of father's Emirates ID both sides
copy of mother's passport with UAE residence visa
copy of mother's Emirates ID both sides
copy of Family Book/Khalasat Alqaid (UAE Nationals Only)
copy of child's vaccination record
photograph of the child
copy of school final report academic year 2022/2023
copy of school report academic year 2022/2023
Student SIS number from the previous school (applicable to all schools in UAE excluding Abu Dhabi Educational Council and KHDA Dubai)
Attested Transfer Certificate to be submitted before the student join school(from Outside UAE please click the link below)
Transfer Certificate (outside UAE)
*Reminder - applications will not be processed until full documentation and payment of registration fee has been received.
*Please note: an application submission requires full and complete documentation.
Please share full details of any special educational needs, individual education plans (IEPs) and any Educational Psychologist, Pediatric, or other specialist reports (e.g., Speech and Language or Occupational Therapy) if completed. Sharing educational history with GEMS WSR prior to a place being offered is essential so that staff can ensure an appropriate assessment of educational need, educational plan and resourcing is in place. Admission is not conditional on the submission of a medical diagnosis and we have effective transition processes in place for all children.
Students are not refused admission based only on their experience of a special education need or disability (SEND) and we give sibling priority for admission to students who experience SEND. Staff follow MOE guidance and procedures for scenarios where, very rarely, it may not be in the best interests of the child to be placed in WSR. This information will be shared with the MOE, following expected procedures.
After completing Steps 1 – 3, you will be able to submit documents and pay the registration fee at the school, located near to the Higher College of Technology for Women, Old Campus. Telephone: 07- 2035999.
Admission Procedure