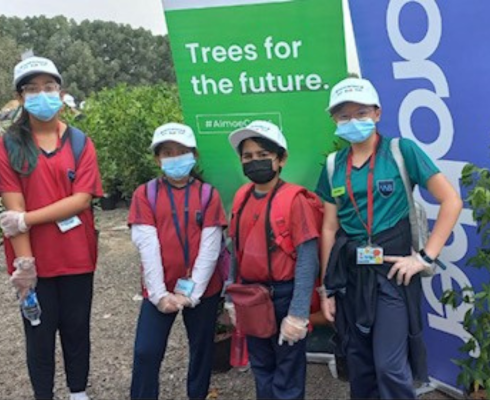 Primary students excel in leadership
Primary students have shown that success goes beyond academics. Around 670 homegrown primary students, who have been with the school from KG1 to Grade 5, have shown remarkable progress and have been identified for the G&T program and student leadership positions.
The school prioritises developing students' communication, public speaking, and leadership skills. This is achieved through a variety of activities and events that allow them to practice and improve their skills. For instance, students are given roles and responsibilities in the classroom, collaboration activities, and competitions, which prepare them for leadership positions in Grade 5.
The primary student leaders have participated in several competitions and hosted many events, and they are also involved in the school improvement plan. The Head boy, Head girl, Deputy Head boy, and Deputy Head girl have exhibited exceptional leadership skills this year. They have been involved in hosting interviews of SLTs, assemblies, guests, investiture ceremonies, and graduation ceremonies.
In addition, they have participated in several Model United Nations (MUN), Diplomathon, and Global Model Arab League (GMAMUN) conferences. They are also active in student leadership meetings, LAB meetings, and preparing PPTs of school-related issues, which class leaders share with their classes every week. One notable initiative they have taken is to ensure that all children sing the National Anthem in the morning.
The student leaders have also produced videos to support the school improvement targets. For instance, they raised awareness of attendance and punctuality with parents and students. This shows that they are proactive in identifying areas that require improvement and are willing to take the necessary steps to address them.
Primary students have set an inspiring example for others to follow. They have shown that success is not limited to academics and that leadership skills can be developed at an early age. The success story of these students is a testament to the school's commitment to providing a holistic education that prepares students for life beyond the classroom.